Here at Carrot Recruitment, we are advocating positive change and want to help our clients and candidates navigate new behaviours within our industry. To gain more insight, we asked 20,000 Pharma and life science job seekers to share their personal experience.
We asked:
Would you say that a work/life balance is more important to you since the COVID-19 pandemic?
They answered:
62% of the respondents we asked said that they believe that a work/life balance is more important to them now, compared to how they felt 3 years ago.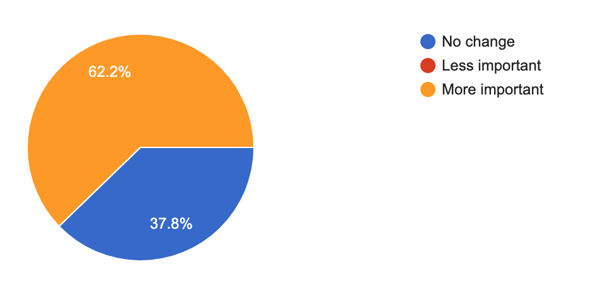 The pandemic caused many workers to change their priorities and the resulting Great Resignation trend took hold. As a result, jobseekers now expect more from employers. With the likelihood that the employment market remaining in the jobseeker's favour, it is even more important that employers listen to what candidates expect to receive in return for their hours and loyalty if they expect to retain their employees.
Increasingly, candidates demand that employers provide:
Employee mental health and well-being procedures

Diversity, equity, and inclusion in the workplace

Flexible working

Well defined career paths

Professional development opportunities
We asked:

 
During interviewing stages, what do you commonly find most frustrating?
They answered:

Not hearing back from a company after an interview as well as waiting too long for feedback account for almost 80% of candidate frustrations.

Leaving candidates in the dark during a hiring process can be very bad for business. Not only does it give a potential employee a very negative view of the company, but it can also lead to bad reviews that then discourage future applicants.
To avoid this, companies should:
Keep communication flowing during waiting periods and/or all interview stages

Be as flexible as possible with interviewing staff

Avoid allowing busy periods or absences to delay feedback/decision making 
We asked:  
In an ideal world, what element of job hunting would you make better?
They answered:
76% respondents mentioned that more clarity regarding salary on a job description would improve their experience whilst looking for job in Healthcare and Life Sciences.
Jobseekers are growing frustrated with the lack of transparency from employers and prefer clarity on the complete salary package at the point of application. They want to know exactly what they are applying for from the outset and are disheartened by ambiguous salary ranges.
Companies who have made their salary structure public, such as Buffer, are a lot more attractive to many candidates and currently receive more job applications than they did before making their compensation data public. Displaying a salary band can help applicants know their worth and attracts more people to apply for roles. It also puts a stop to any ambiguity surrounding prejudicial distinction, gender pay gap or wage discrimination.
Most importantly, pay transparency is the best way to fight pay gaps within a business because it gives all employees the tools to objectively understand how much value they bring to the business and feel more confident asking for it to be represented in their pay check.
To appeal to jobseekers, companies should consider:
Being more transparent - state an upper range if willing to pay more for the 'right person', they won't apply if they don't know the details.

Selling the benefits – shout about the other elements of compensation that come with the position, and explain what they are worth e.g, bonus, equity, etc. Also include other benefits such as diversity or female ration, remote working flexibility – anything that adds value to candidates.

Doing more research - understand the market rates to make good decisions on pay, using benchmarking tools like Payspective.

Looking at the bigger picture - show candidates how they can grow within the company by mentioning career and compensation progression, including how often it is reviewed.
We asked:

 
In regard to a benefits package, which three are most important to you?
They answered:

Salary, flexibility and hybrid/remote working came out as some of the most sought after benefits by our respondents.

Perhaps unsurprisingly, new data from LinkedIn's UK Workforce Report shows that a large share of new roles are remote jobs – with different industries showing 3 to 19 times the levels seen in June 2020 as the UK embraces the flexibility of working from home long-term. 
Love it or hate it, remote working is here to stay and that is reflected across behavioural trends across recruitment as a whole. The term "work from home" is among the most popular online searches this year by jobseekers, amid the return of some employees to the office. This is a lasting impact of how the employment market has evolved during the pandemic.
In an increasingly competitive market companies need to do all they can to stand out from the competition – and benefits packages are becoming the battleground.
How companies can make their benefit package stand out to candidates:
Almost half of job adverts don't mention benefits – companies must make benefits a focus when inviting candidates to apply for a role

Thinking outside the box – employers should look at what their competitors are offering and do one better

Asking questions – flexibility and forward-thinking attitudes are both important attributes to candidates. Finding out what current employees love about their job will help sell a similar role to others
We asked:  
What, if anything, do you dislike about looking for a new job? - Why do you dislike it?
They answered:
There were many varied answers to this question, but a reoccurring theme was that the personal touch is something that is sorely missed by candidates within staffing and recruiting.
Many of our respondents mentioned that they feel like automated technologies have made the recruitment process feel very impersonal and that there can be a lack of human interaction. In a post-pandemic world, face to face interactions are decreased and candidates are feeling undervalued and overlooked.
Companies that value and implement good communication are a hit with job seekers in the current market and are more likely to attract top talent.
To be able to create a more personal candidate experience, companies should:
Consider calling a candidate rather than always relying on text/email

Keep automated or templated emails to a minimum

Build a communications strategy designed to keep candidate in the loop throughout an interview process

Invest in systems which will help to keep track of candidate progress

Adopt an approachable yet professional tone of voice through all internal and external communications
We asked:

 As a candidate, have you ever dropped out of an interview process because of a bad experience?
They answered:

A huge 44% of respondents have previously dropped out of an interview process due to a bad experience with a potential employer.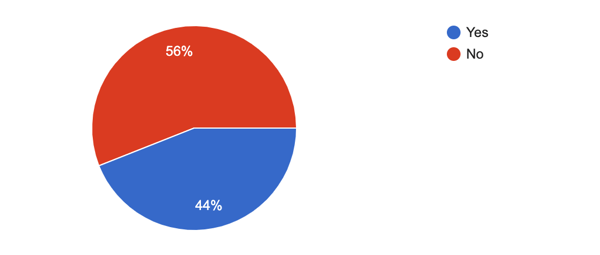 This tells us that there is still much to be done to improve the candidate journey within Pharma and Life Sciences.
Having a candidate drop out of a hiring process due to a negative experience can reflect very badly on an employer. The Pharma and Life Sciences sector is a small one and damaging stories can spread quickly amongst candidates, ruining the employer's chances of attracting top talent.
In order to attract and retain the best candidates during interviewing, companies must:
Have an end-to-end communication strategy for all applicants

Keep interviewing to a strict time period and cut down on waiting times

Be flexible with interviewers to lessen the need to cancel and reschedule

Maintain a flexible and personalised approach to interview processing
Feedback from candidates is a positive way to drive change and make improvements in our industry and iti s important to adapt to this changing world of recruitment. As a company, Carrot Recruitment are committed to candidate experience and helping our clients to attract the top talent.
You can read more about How to Attract Quality Talent in a Candidate-Short Market here.
Are you a candidate looking for a new role within Pharma and Life Sciences?
With a passion for people, we love nothing more than placing candidates in their dream job. Our supportive service has been rated 'world class' by those we work with and our specialist sector knowledge and commitment is a winning combination that sees candidates come back to us time and time again.
Visit our jobs pages or submit your CV to find out more about the opportunities we have available.
Are you a company looking to grow the team?
We add tangible value to our client's recruitment process, offering guidance throughout, in relation to resource planning, talent attraction & retention. We value forging and maintaining strong relationships with both candidates and businesses, working in partnership with many, producing excellent results.
If you would like to find out more about working with us, give us a call on 01625 541 030 or email enquiries@carrotpharma.co.uk